Vacation Bible School
Join us for a wild ride and discover that God is always with us, even in rough water!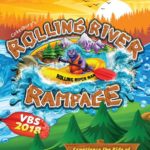 Children will learn about God's unconditional love through five nights of:
Stories!
Songs!
Games!
Worship!
Fellowship!
Crafts!
And More!
We will meet in the sanctuary each evening for a group opening before splitting into our groups. On Thursday evening we invite families to attend together for an end of week worship service and fellowship.
We look forward to seeing you and your children at VBS. Online registration is now open!  Registration forms are also available in the church lobby. Online registration will close on July 12.
Online registration is closed. You may still register at the door!
If you have any questions, please contact Children's Ministries Director Samantha Cuascut.
Collecting Change for a Change
Donations collected throughout VBS will support local charities. We will collect pennies on Sunday, nickels on Monday, dimes on Tuesday, and quarters on Wednesday.
Volunteers Needed
We are still looking for youth and adult volunteers to help each night at VBS! No experience is necessary. Please email Samantha or sign up here.
---
St. Peter's uses photos from various services, events and educational programs for use in promotional materials that include newspaper ads, social media such as Facebook and bulletin boards. If it is your wish for your child's image NOT be used in any of these media, please pick up a "Right of Refusal" form at the registration table and hand it in with a photo to the Children's Ministries mailbox.