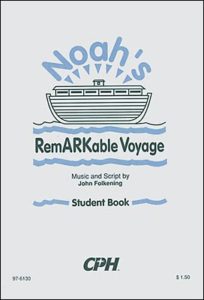 St. Peter's is putting on a musical! Come to the Sanctuary at 3:00pm on Sunday, March 3rd to see and hear the story of Noah, an enormous boat, a lot of animals, and how God's promises endure forever.
Who can be in the cast?
The children and youth of St. Peter's are invited to participate in the cast of the musical. Music learning will start in Jubilate and Youth choirs. Dedicated musical rehearsals will follow in the spring. See below for a full schedule. Children and Youth will also start learning music at this year's Children's Music Retreat, held on Saturday, August 18th.
In what other ways can I be involved?
A church musical task force will convene to take care of some of the behind the scenes (and actual scenery!) details. Between making sets, ordering shirts, working with props, and a host of other details, these folks will be the glue that makes this event possible! Please contact the Director of Music to indicate your willingness to help.
Rehearsal Schedule
If you'd like to be in the cast of the musical, plan to be present at a majority of the following rehearsals:
Thursdays (6:00-7:15pm)
Jan. 24
Jan. 31
Feb. 7
Feb. 14
Feb. 21
Feb. 28
Saturdays (10:00-11:00am)
Jan. 5
Jan. 12
Feb. 2
Feb. 9
Feb. 16
Feb. 23 (10:00-noon)
Mar. 2 (10:00-noon)