We are disciples of Christ by the way we worship and praise the Lord, by the way learn about God's love, and by the way we serve our neighbors near and far.
For where two or three are gathered in my name, I am there among them.

–Matthew 18:20
Our Mission
St. Peter's Evangelical Lutheran Church is an inclusive  family of faith, unified in Spirit.  As members, we are called to worship God, learn and teach God's Word, and serve humanity, near and far.

–St. Peter's Lutheran Church Vision Statement
In order to to fulfill St. Peter's Evangelical Lutheran Church's vision, members will: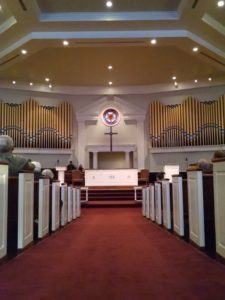 Worship through the use of liturgy, preaching the Word, administration of Sacraments, a varied music program, and a participatory membership role.
Teach the Word of God and nurture spiritual growth for the entire membership through varied educational experiences.
Witness to others by sharing the Gospel of Christ and working both near and far for peace, justice, and ways to end human suffering.
Celebrate fellowship within the church family through small group ministries, by recognizing wide ranging interests and providing a welcoming, nurturing environment for new members.     
Return to God with joy and thanksgiving what God has first given us… ourselves, our time, and our possessions…through discerning and sharing our Spirit-given (God-given) gifts as well as through proportionate growth giving.
Promote community outreach and serve others as representatives of Christ, by effectively allocating staff, lay members and facilities.
Foster ecumenical faith ventures with other congregations.
Who we are and what we Believe

St. Peter's Lutheran Church is one of the 237 Lutheran churches of the Lower Susquehanna Synod and part of the Evangelical Lutheran Church of America .
Want to know what Lutherans believe?
Meet our Leaders
Connect with our staff of rostered and program leaders and our office personnel.
Find out about more about our church council and committee leadership.
Membership
St. Peter's is a family of faith. Learn more about our family and how you belong!
History
St. Peter's has been doing ministry in the Lancaster area for over 135 years. Find out more about our story.